Malt Liquor
Malt Liquor plays unstylish trash rock without regard to trends or excessive persperation. Founded in 2012, the group pounds out primitive, fuzzed-out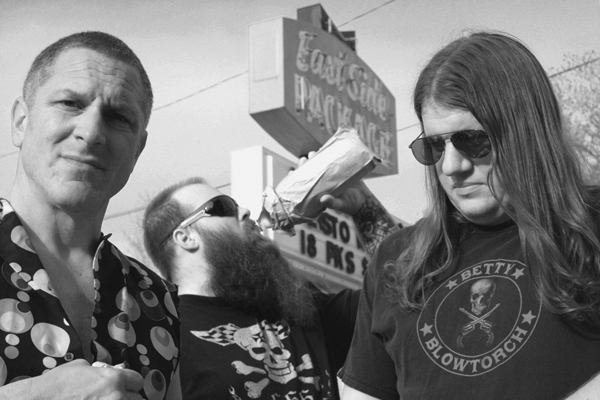 anthems featuring the bashing and crashing of Jake Pope (ex-Swampass), the thudding bearded-ness of Cliff Strangler (Soy City Stranglers) and the speaker-wrecking chords/tongue out of cheek lyrics of Tommy Rue (ex- Swampass, Spankwagon).
The blues boogie meets garage punk churned out by the trio rejects both pretention and over-analysis. For Malt Liquor, music drives feet and hips. Rock and roll does not judge or analyze the group, and they graciously return this favor.
This mutual respect results in a more worldly brand of trash rock. In the vein of The Stooges, The Hellacopters, or The Jesus Lizard, they bring a frenetic live show and challenge the limits of magnetic tape in the studio. In the vein of musicians that have experienced the United States by way of tour van, they come by rock and roll honestly.
Their debut 7 inch record will be available in October 2013 on Cavetone Records.
Malt Liquor is currently playing shows at places with good bands and lax noise ordinances. For booking, press, merchandise, and other inquiries please contact cavetonerecords@gmail.com
Malt Liquor official promotional video




Malt Liquor Merch

Malt Liquor
Live
Selected Press for Malt Liquor
"Tommy Rue… now fronts the slightly more refined power trio Malt Liquor. He switches from one rickety landline phone to another at the analog Charleston recording studio/label Cavetone, where he and drummer Jake Pope are approving the final mix of "Gargle Boogie" off Malt Liquor's split mono 7-inch…(and) grabs one of the phones and plays "Gargle Boogie" for me off the master reel. It's a world premiere. I hear the origins of rock 'n' roll on some lost EIU weekend. We're going too fast, but I can see the city's drive-thru liquor store, the campus trash-pickers, and the always-laughing waitress."
- Illinois Entertainer (Chicago, IL)

"Back in the early 2000s Charleston Illinois' greatest rock 'n' roll export of all time, Swampass, made their Youngstown debut at Nyabinghi opening for Betty Blowtorch. They were loud. They were crass. They were in drag. After a decent run of touring and a full length release "No Means Go" on Reptilian Records, the band mysteriously vanished into one of the seemingly endless hazy nights of boozing, drugging, and debauchery. More than a decade on, two thirds of the group are back to stake their claim as kings of Midwest sleaze as Malt Liquor."
- The Youngstown Pulse (Youngstown, OH)

Murphy's Law show at Reggies: "Malt Liquor was second on the bill. They were more of a gritty rock band. This trio played some loud and fast rock that was a bit reminiscent of some 90′s underground rock bands… They had a big sound for being only three people. A soundtrack for drinking if there ever was one."
-The Punk Vault (Chicago, IL)

Malt Liquor Logo
(click for hi-res)


Stage Plot
(click for expanded view)